In January 2011, Národná banka Slovenska (Slovakia's central bank) issued a €2 commemorative coin to mark the 20th anniversary of the foundation of the Visegrad Group.
On the coin's national side, in the inner part, there is an outline of the four central European countries that constitute the alliance known as the Visegrad Group (or V4)--the Czech Republic, Hungary, Poland and Slovakia. Overlying part of the outline is the stylised abbreviation "V IV".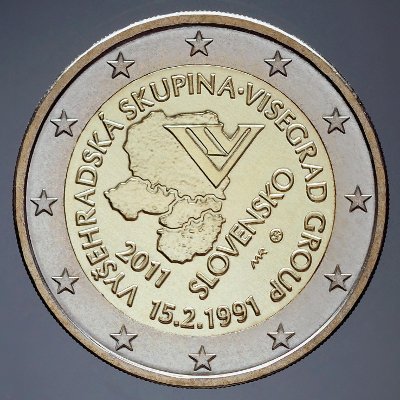 The coin's national side was designed by Miroslav Rónai, and the total issuing volume is one million coins, produced by Slovakia's state-owned Kremnica Mint. Národná banka Slovenska will, on request, exchange valid euro banknotes and coins for the €2 commemorative coins
in a restricted amount of up to 50 coins per applicant.
The coins may be obtained at counters located at the NBS headquarters in Bratislava and at NBS local offices in Nové Zámky, Trenčín, Banská Bystrica, Žilina, Lučenec, Poprad, Košice, Humenné and Bratislava, during counter opening hours.
Each euro area country may issue collector coins and €2 commemorative coins, in addition to circulation coins. Commemorative coins are legal tender in all euro area countries, while collector coins are legal tender only in the Member State that issued them.