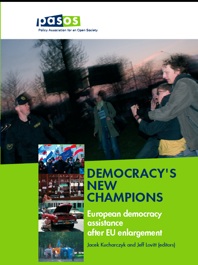 DEMOCRACY'S NEW CHAMPIONS:
European Democracy Assistance after EU Enlargement is a ground-breaking PASOS study into the democracy assistance policies of the Visegrad Group countries, with a focus on four target countries: Belarus, Bosnia and Herzegovina, Cuba, and Ukraine.

Edited by Jeff Lovitt and Jacek Kucharczyk, published by Policy Association for an Open Society (PASOS), in Prague 2008, as part of a project co-funded by the International Visegrad Fund.
To download the book and/or see other articles please proceed here.
To visit PASOS's website please proceed here.